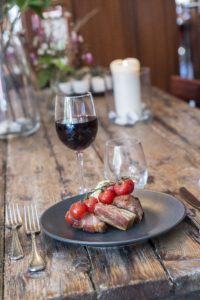 The restaurant is open from 10 May to 10 October
We also welcome guests who are not staying in our hotel. Please book a table in advance (starting at 19:30) if you are not staying with us.
In Hotel Le Cassini we are very passionate about the culinary aspect of your day. Every evening we provide a tasty and surprising 3-course diner. Sometimes a known classic, a local specialty or something completely new in our own way.
In the summer our restaurant and terrace are also open for lunch. You can choose from the daily fresh dishes of our à la carte menu. We have good pasta's, light salads, a hamburger, omelets, etc. Standard dishes made surprisingly tastful and orginal. Many come back for it.
You are also very welcome for 'just' a cup of organic coffee with (apple)pie.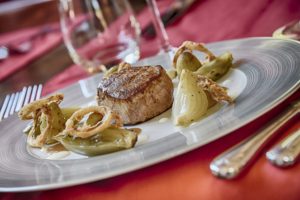 Every Saturday a menu entirely made from local products
Maarten already liked working with local products to serve you healthy and honest dishes, but this summer he introduces something new. There are many producers in our Oisans region who, with a lot of passion, make a great diversity of beautiful products. This season, every saturday, Maarten will create, with only these ingredients, a tasty and surprising menu, just as you are used from him. You can also visit most of these local producers during your stay and many of them are at the different markets in our area, so feel free to ask where the ingredients on your plate come from.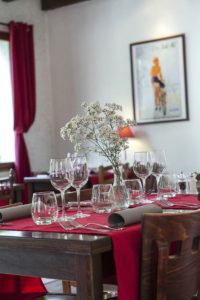 Our wines are also carefully selected and we hope we can serve you a fitting wine with each dish. On our wine list you'll find both local, organic as well as some famous French wines. Of course we also have a wide variety of (local!) beers, liquors and soft drinks.
Naturally we take any allergies and/or diets into account. We would like to receive this information at your reservation so we can adjust our menu in time.
Fresh, honest and tasty 3-course diner (excl. drinks): €35 p.p.