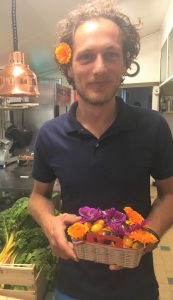 It might be unnecessary to tell that during your holiday we, with great pleasure and passion, will do anything and more for you. Because we think that's what holiday is about and because we love to spoil you during your holiday.
Maarten will spoil you with exciting meals. Not only our hotel guests, but also our local French neighbors, return to our kitchen regularly and with great enthusiasm. You can talk for hours with Maarten about food and drinks, though he feels most happy and comfortable in his kitchen. He is also 'chef' maintenance of the garden, terrace and actually the complete hotel. He is not only creative and handy with ingredients, but also a real handyman! Besides cooking Maarten has a passion for outdoor sports. He would like to cycle and be on the slopes more.
Sophia will not rest and be happy until you will be satisfied leaned back in a comfortable chair on the terrace or bar at the end of the day. She has buckets of energy and enthusiasm and will do anything she can to make your stay as amazing and comfortable as possible. She loves chatting, with her lovely sense of humor, about your happenings during the day and actually about anything else as well. Sophia loves to eat (that is convenient!) and when she has the time she loves hiking. And one thing we mustn't forget; she is crazy about animals.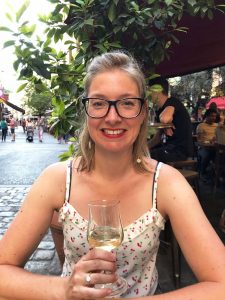 They both have their passion inherited from home. Maarten's family live in a kitchen with walls of cookbooks where they are as self-sufficient as possible out of their own garden (inclusive the chickens). Sophia knows all about etiquette's from years of "home study" given by her parents. Also there was and still is a shared wine in the afternoon and a sumptuous meal afterwards the highlight of the day.
And to complete our team:
Jan is our living Wikipedia know-it-all. No Cassini without him. He has been working at the hotel for 10 years now and knows every corner of the region like the back of his hand. Hiking, cycling, or sightseeing by car and keeping up to date with the latest regional news and events are just some of his interests. He has a passion for France and speaks fluently Dutch, French, English and German. Talking with our guests, making jokes, advising them during their stay at Cassini is another passion of his. Even during his time off you can find him helping our guests out. Another big love of Jan is classic cars and classic car racing.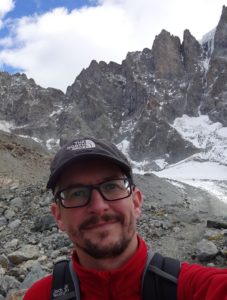 He knows as much about this as he does about the best local cycling routes or hiking trails!